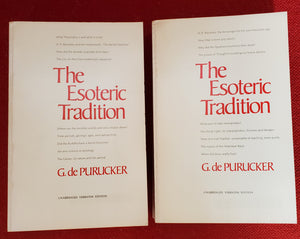 Golden Bow Designs
The Esoteric Tradition (2-volume set), G. de Purucker, 1973 Reprint Edition
Regular price
$19.00
$0.00
H. P. Blavatsky pointed to the fundamental concepts contained in The Secret Doctrine as comprising the principles of an ancient wisdom which far antedates the Vedas. The Esoteric Tradition unfolds the broad panorama of this enduring wisdom, allowing the reader to see universes, worlds, and men as different aspects of one cosmic pattern. Chapter titles include:

Allegory and Mystical Symbolism

The Secret Doctrine of Gautama the Buddha

Evolutionary Pathway to the Gods

Worlds Visible and Invisible

Reimbodiment as Taught through the Ages

Death and After: A Study of Consciousness
***Shipping Note on Books: If you would like USPS Media Mail discounted shipping, please reply to your order confirmation email stating you prefer media mail.  We will refund the shipping cost difference.  Be aware USPS Media Mail does ship at a slower rate than First Class.  Limitations in our system do not allow that option to be chosen at point of sale.
---